When having a discussion in any part of the world that's related to social media then it's extremely difficult to not talk about the Alpha in the pack. Although varying theories remain, the majority of any population would agree the social media Alpha is none other than Facebook. There have been social media applications launched before Facebook but when you recall them in your mind, none of it will be remembered.
The growth of Facebook has been monumental since being launched from a Harvard dorm room on 4th February 2004. Now in 2022, the platform has more than 2.8 billion active users per month and the number is humongous and still keeps growing. The Facebook social media platform has thus been around for more than 17 years and has dominated other platforms in the last decade. Zuckerberg had been programming since he was a kid and even before going to Harvard he had successfully created computer programs that were practically advantageous and relevant.
The Grand Rise of Facebook
Mark Zuckerberg had a software development tutor at the age of 11 and he had always claimed Zuckerberg to be a Prodigy. The extraordinary intelligence of Zuckerberg gets further proven when you get to know that he stepped into Harvard to pursue a major in Psychology and not Computer Science or Software Programming!. Before this, he had already attracted the attention of Microsoft and AOL and made a lot of hullabaloo for the software systems made by him.
Experts suggest that he was much more focused and certain about his next steps before stepping into Harvard. He probably knew long before how crucial the understanding of human psychology is for making them get attracted to a specific product, whether it's physical or digital. The creation of Facebook had definitely benefited from the Psychology teachings and has been addictive for most users ever since it came into existence. The Facebook platform didn't always have a huge set of features and multiple engaging interface icons. Primarily it was launched only for the Harvard students and they could upload photos, showcase interests and even interact with other users.
Just in a few months, the popularity spread to huge distances and the platform was made open to all universities in the United States and Canada. In that same year, Zuckerberg moved the company and settled in Palo Alto, California. Here he was able to procure some crucial investments in the company so that the expansion and development of Facebook can take place without complications.
Later on, Zuckerberg decided to take upon the full-time role as CEO of the company and further large investments in millions of dollars poured into the company. After two years in 2006, the Facebook platform was finally made open to everyone and since then the user count on the platform has grown by several Million every year. The think tank at Facebook then shifted its focus toward businesses instead of common users and deployed strategic features like Facebook Marketplace and Facebook Application Development program.
Primary Aims for Creating an Application like Facebook
You don't have to go for a psychology major for getting an app like Facebook, but there are several factors you need to consider and figure out before actually indulging in the development process. You might have an innovative idea about a brand new social media platform that will be like Facebook in some ways. For actually making this dream a reality, progressing in a rightful manner is important that will be in steps and separate fragments. The primary consideration to look into before the creation of a social media platform or any application are mentioned below.
Figuring out the 'R' in R&D
The absolutely primary task you will have in hand is to write the application idea that popped up in your smart and creative mind including any detail and importance of the app idea which had arisen. After the details are there on a paper or digital document, keep it safe and move towards the actual broad step of Research. If the idea is about a groundbreaking social media app like Facebook then Researching the existing dynamics of the global social media sector or atleast for your country is super-vital. There is a good chance in the world your idea might have been already implemented by someone into a real digital app.
This is one of the many factors why research is important, if you move forward without sufficient research, there is a great chance of facing mountain size perils. When the existing market of social media apps and their ideal customers will be analyzed, you will have a better understanding of molding your application in the ideal shape to fight them all like a juggernaut. Researching through the definite niche of social media also makes you identify the various aspects due to which the users swarm every day on the same platform. If you are going to hire an expert big-league IT firm like Softgrid then the research step also can be efficiently carried out by them.
Pointing out the key objectives and after launch management
Understanding and acknowledging the aim you are willing to achieve through the social media app lies in the basic steps in the process. When you look at Facebook, the primary objective it had was to increase social interactions between students, similarly, the objective for your application needs to have effective clarity. The next thing to do is change your perspective and identify why people would love to download your social media application and use it even after having existing accounts on giant platforms like Facebook and Instagram. The question of 'why does someone make the effort to use' also demands clarity in order for your app to have a good chance of success.
You also need to identify some of the innovative features that your app would host and keep your users engaged and occupied through it. You will always have help throughout the entire process when a professional IT firm like Softgrid. Let's assume we complete all these fragments in the puzzle of launching your social media app and move on to the next step. If the application gets launched it would become like a company and the common requirements of a startup would arise.
You need people to manage the app or you can go full-time into it which would reduce the human-power requirement. You would soon need a small office setup for running the operations in an organized pattern. If you have a more important job or business to handle then figure out who will be in charge of everything when the app gets launched and starts getting daily downloads in large numbers.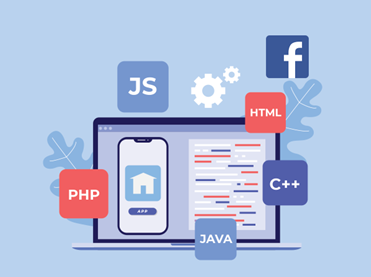 Deciding the Application Dimensions and the Brand Features
The modern mobile applications can either be for android or iOS and therefore launching on both platforms will be required in the long term. An application can be a paid purchase or a free downloadable one and this is where the in-app purchase considerations are also step in which you need to decide for your new app which will be like Facebook.
There are a huge number of apps in the digital market which are free to download but host some premium purchases in the application that unlocks the full potential of the specific app. Some apps also are taking upon the subscription model of monthly payments that gets deducted from the user's bank account for continuing the premium access to all features of the application. Although the present applications in the play store and apple store market are mostly being witnessed to be launched in a free-to-download model.
When you are going to launch a social media app like Facebook then Softgrid social media experts suggest launching the application for free at least in the initial launch, otherwise adoption and purchase of the new app would be a very difficult model to pursue. The app which you need to launch should have an innovative branding that shouldn't be similar to any other existing popular apps, as otherwise there would be copyright issues and users would get confused as well.
The designs and logo should be attractive and engaging for making the potential users have a premium digital experience in every step of application usage. Even after the launch of the mobile application, there would be changes required to bring it into an ideal shape that is more adaptable to the mass audience. Thus making sure the IT firm is ready to implement those changes and the application creation is made customizable are boxes that are required to get ticked out.
Some of the Vital Reasons which make Facebook act as a User-Magnet
Comfortable use by all age groups- When you check through the age group dynamics across all relevant social media platforms, you will soon find the maximum age versatility to remain on Facebook and Whatsapp. On the other hand platforms like Instagram and Snapchat are focused more on the Gen-Z and young age groups. Right from the launch of Facebook for all age groups, it had remained focused on its simplicity of use. Even after aligning and keeping up with modern trends, Facebook has managed to maintain the interfaces with utmost clarity. The platform has always received alterations and updates with such innovations that kept any type of feature complications at bay.
Wide range of features and interacting mediums- Facebook has adapted new features and changes to always keep the users hooked to the platform with no chance of facing boredom. After being launched just with the features of post sharing and interactions Facebook embedded features like games and distinguished Messenger application. Then Facebook also has options for audio and video calls making it a single platform to carry out conversation through all available mediums.
The curious newsfeed jammed with entertaining content- In the modern facebook application of 2022, video content is witnessed to be the most engaging form of content and this is why Reels features are also added to Facebook. The vertical high-quality videos in the advanced smartphones have the same effect as that of a cringe-worthy movie. The news feed is not the same as before and the intelligent application of Facebook can keep providing posts and videos on the feed even if the user has scrolled down through all the posts from friends, family and anyone of slight acquaintance.
Conclusion Note
Feeling a spur of emotions that excite & intimidate you at the same time? That's exactly how someone feels before making a life-changing decision. Just remember that your App needs to provide an unique value to every user, you need that secret ingredient in your app recipe that all popular existing apps cannot provide. A proper game plan and insightful research will put you way ahead others with a similar social media app idea.