WooCommerce, is one of the most popular eCommerce plugin for WordPress platform. It offers a wide range of features and flexibility if you want to launch a WordPress-powered eCommerce store. WooCommerce is a great plugin with all the basic eCommerce options you need to put your store in front of your online audience, however, to truly unlock the full potential of your WooCommerce store, you need to harness the power of extensions/plugins. Extensions are a great feature of WordPress that helps to enhance the functionality of any website. WooCommerce is a WordPress plugin, but it has its own set of extensions that only work with WooCommerce to allow using some additional functionality. WooCommerce extensions are designed to enhance the functionality and customization options of your online WooCoommerce powered store, allowing you to create a unique and bespoke shopping experience for your audience.
How to Install WooCommerce Extensions
It is very simple to install WooCommerce extensions. These extensions are essentially little plugins that extend the detault features of WooCommerce plugins.
Step 1. The very first step is to create an account at woocommerce.com
Setp 2. Once you've created an account at woocommerce.com, you need to connect it with your WooCommerce setup. It is very easy, you just need to click on Connect under your WooCommerce .com Subscriptions tab and connect to your account.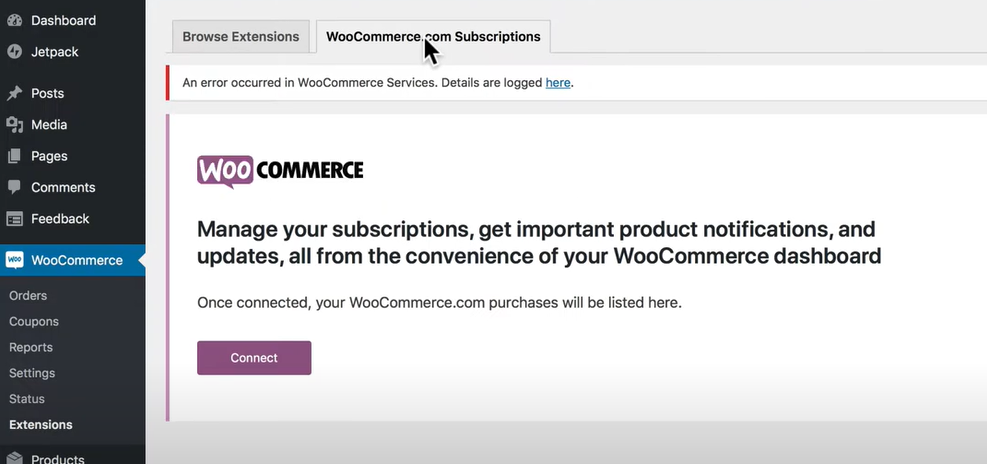 Step 3. Go to your woocommerce.com account and search for the extension you are looking for. There are few free and lots of paid extensions. You can select and download the zip from there.
Step 4. Install the downloaded extension using WordPress plugin installation: > Go to Plugins -> Add New -> Upload; Find your file and upload; Activate
Step 5. Go to your WooCommerce Plugin Subscriptions tab again and now we need to Activate the extension from here one more time. WooCommerce -> Extensions -> WooCommerce.com Subscriptions
Here you'll see all the woocommerce extensions and you can make them Active/Inactive

WooCommerce extensions are great for:
Expanding product options beyond the standard features. Whether you want to offer product variations, customize pricing based on user selections, or create subscription-based products, there is an extension available to meet your needs.
Enhancing store design is a must to set your store apart from the competition. WooCommerce extensions provide you with a plethora of options to customize the design and layout of your online store. From advanced theme builders to customizable templates, you can easily create a visually stunning and unique storefront that aligns with your brand identity.
Optimize checkout experience with extensions. A smooth and hassle-free checkout process is critical for increasing conversions. WooCommerce extensions offer different tools to optimize the checkout experience. You can implement one-click purchases, set up trust badges, or provide multiple payment gateway options, these extensions help streamline the checkout process and reduce cart abandonment, ultimately boosting sales.
Integration with third-party services is also one of the major reasons you might need WooCommerce extensions. Whether you need to integrate your store with email marketing platforms, inventory management systems, or CRM software, there is an extension available to simplify the integration process.
WooCommerce extensions are a game-changer when it comes to enhancing functionality and customization in your WordPress-powered online store. By using these extensions cleverly, you can extend product options, can set up a beautiful-looking store, optimize the checkout experience as per your needs, integrate with third-party services, and improve performance and security. Hope this article helps you set up WooCommerce-powered store. If you need any customization services for your WooCommerce-powered store, contact a Woocommerce developer and get help in setup/customization of your store.